THE  DARLASTON  WEB  PAGES
This Page is Goostrey (last revised 12th July 2021)
If other pages are not listed to the left, the Home Page can be accessed here:  www.robertdarlaston.co.uk
<![if !vml]>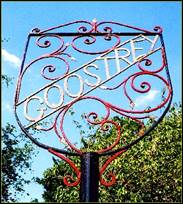 <![endif]>                          GOOSTREY,
CHESHIRE                                   <![if !vml]>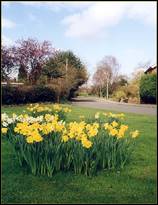 <![endif]>
The village and its weather
FOR WEATHER RECORDS PLEASE SCROLL DOWN BELOW THE PHOTOGRAPHS
Goostrey is a rural village in Cheshire with a population of about 2300.   It is not on a main road, but is only about four miles from junction 18 on the M6 motorway.   It has a station served by hourly stopping trains on the main Crewe – Manchester railway line.   Amenities include a Post Office and a limited range of shops , a junior school, two pubs, the Parish Church and the Methodist Church.   The village is surrounded by farm land and wooded countryside, offering attractive walks.   The centre of Manchester is 20 miles to the north and its airport about 12 miles away.   Chester is 25 miles to the west and Birmingham about 60 miles to the south.   The village is two miles across the fields from Jodrell Bank Radio Telescope.
<![if !vml]>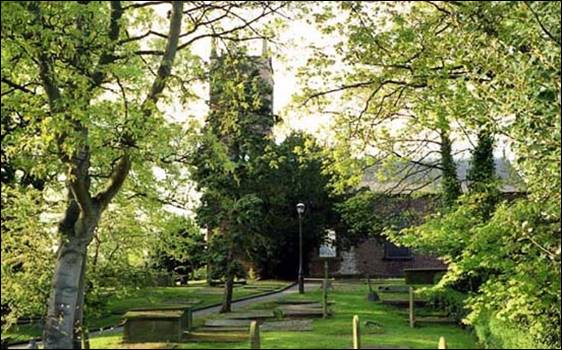 <![endif]>   <![if !vml]>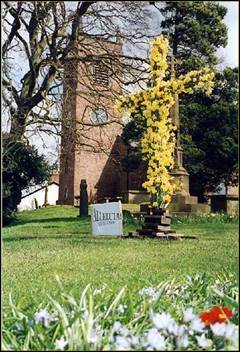 <![endif]>
Goostrey Church :  On a Spring evening and at Easter 2000  
The present Church was completed in 1796, but the font dates back to the 15th century.   The Yew Tree by the door is about 800 years old.   The interior has oak panelling with plasterwork and the stained glass is 19th century French.
<![if !vml]>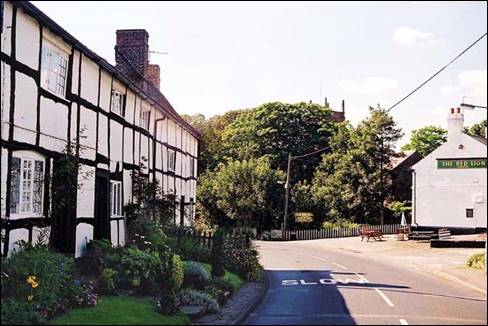 <![endif]>   <![if !vml]>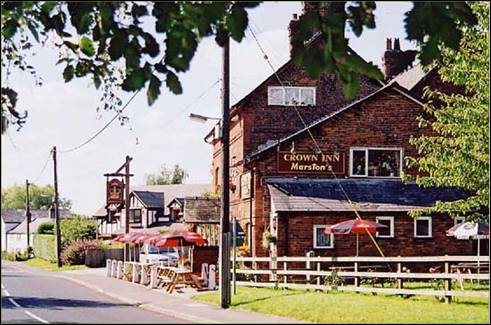 <![endif]>
Church Cottages and Red Lion,   and the Crown Inn, Goostrey
The centre portion of Church Cottages is original half-timber and plaster, but the cottages were extended in brick at each end, painted to match the earlier construction.  
The Crown Inn was formerly a farm which brewed beer for sale
<![if !vml]>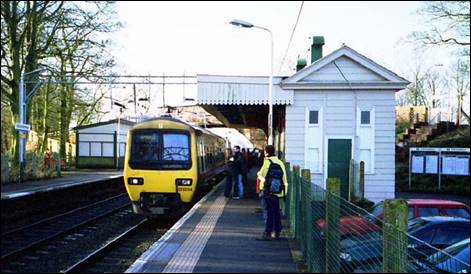 <![endif]> <![if !vml]>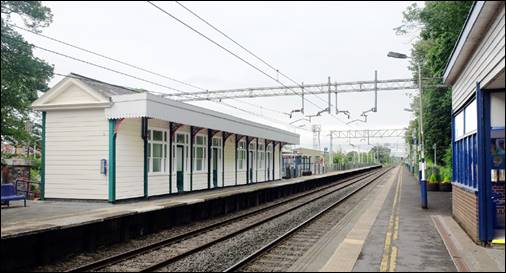 <![endif]>
Goostrey Station
Left:  Rush hour at Goostrey as a train from Crewe to Manchester pulls in. 
Right:  The station building (which dates from 1891) after its splendid refurbishment in Spring 2019
<![if !vml]>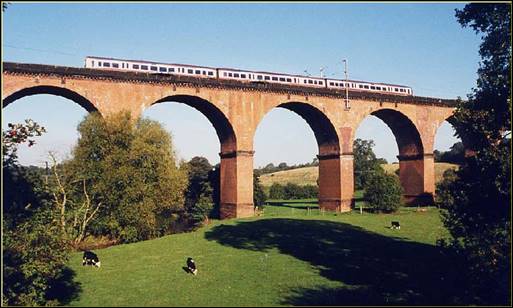 <![endif]>  <![if !vml]>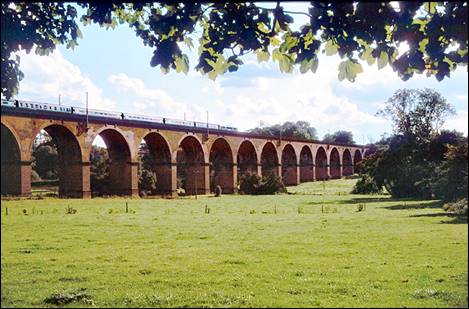 <![endif]>
Trains crossing Goostrey Viaduct
The line through Goostrey was completed as part of the Manchester and Birmingham Railway in 1841 and was refurbished in 2016.  
The brick viaduct comprises 23 arches, is about 600 yards long and over 100 feet high:  after over 170 years' service it is still capable
of taking heavy trains travelling at 125 mph.
  <![if !vml]>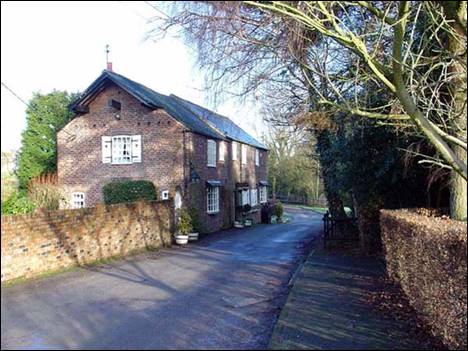 <![endif]>    <![if !vml]>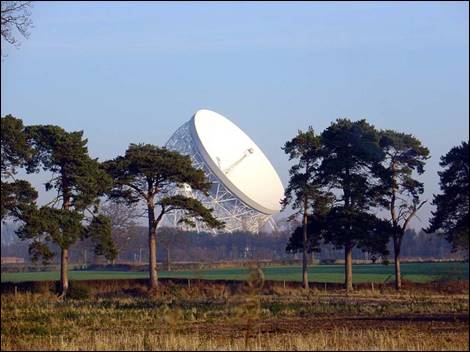 <![endif]>
The Old Mill and a view to the Lovell Radio Telescope at Jodrell Bank
The Radio Telescope was completed in 1957 for the University of Manchester and has been regularly updated.
<![if !vml]>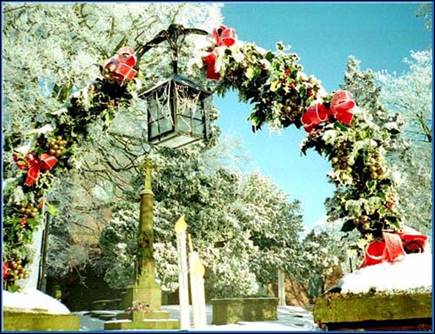 <![endif]> 
Goostrey Church, Christmas 2000
*   *   *
WEATHER STATISTICS FOR GOOSTREY, CHESHIRE, U.K.
The site at which recordings are made is approximately 190 feet above mean sea level.
Note:  while the site at which these statistics have been gathered does not fully comply with Meteorological Office requirements because of the proximity of buildings, rainfall records are likely to be accurate within a very small margin of tolerance.   Temperatures may record fractionally higher than the level likely to be achieved by a properly sited thermometer, depending partly upon wind direction and speed.  
Rainfall at Goostrey, Cheshire,  1987  -  2021  (inches)
January

February

March

April

May

June

July

August

September

October

November

December

Year

          Wettest day

Dry days #

1987

1.66

2.21

5.72

2.94

4.24

2.29

5.12

2.89

1.72

*37.50

1.35

  4th June

1987

1988

4.39

1.59

4.87

1.39

1.77

2.80

4.94

3.27

2.20

2.98

1.83

2.41

34.44

1.06

  30th Nov

183

1988

1989

1.27

2.33

2.68

3.15

1.41

1.96

2.77

1.84

1.16

3.64

2.72

3.55

28.48

1.16

   1st July

195

1989

1990

4.60

2.67

1.38

1.38

1.18

2.69

1.52

2.29

3.29

3.24

3.12

3.34

30.70

1.02

  25th Sept

164

1990

1991

2.05

0.90

1.55

1.10

0.43

3.32

2.70

1.01

2.14

2.48

2.99

2.82

23.49

0.91

  22nd Dec

195

1991

1992

1.81

1.45

3.81

1.93

3.36

0.77

2.54

4.21

2.08

4.56

4.11

2.78

33.41

2.08

  30th May

174

1992

1993

2.58

0.64

0.32

2.63

2.96

2.40

3.56

2.09

2.86

2.02

1.80

5.59

29.45

0.65

  16th July

165

1993

1994

3.65

1.02

3.21

3.27

1.05

1.50

1.85

1.85

4.70

3.85

2.67

4.73

33.35

1.13

  15th Sept

153

1994

1995

3.89

3.69

2.81

0.89

1.54

1.04

1.66

0.78

3.39

0.96

1.38

1.62

23.65

0.87

  26th Jan

180

1995

1996

0.78

2.05

0.85

1.66

2.33

1.47

1.87

2.94

1.16

3.09

4.19

2.16

24.55

0.90

  19th Dec

201

1996

1997

0.41

3.06

1.45

1.24

4.16

4.84

1.47

2.28

1.43

2.36

2.66

3.67

29.03

1.08

   6th May

181

1997

1998

3.00

1.03

4.16

3.98

0.88

4.50

2.32

2.50

2.00

7.27

3.02

1.80

36.46

1.21

  23rd Oct

134

1998

1999

3.94

1.69

3.52

3.37

2.70

2.75

1.46

3.05

4.88

3.47

2.50

4.89

38.22

1.16

  8th May

146

1999

2000

1.90

3.30

1.56

3.40

3.06

3.34

2.40

1.85

4.80

6.69

5.84

3.45

41.59

1.36

  30th Oct

124

2000

2001

1.81

3.21

1.26

4.22

3.52

1.74

1.35

4.65

2.80

3.83

2.11

1.61

32.11

1.45

  15th May

149

2001

2002

1.98

4.87

1.29

2.03

2.81

2.33

4.82

4.27

1.94

4.37

3.66

3.87

38.24

1.70

  10th Sept

151

2002

2003

2.08

1.65

1.63

1.82

3.40

2.06

3.30

0.54

1.51

1.85

1.57

3.30

24.71

0.63

  20th Dec

180

2003

2004

4.35

2.07

1.05

2.99

1.73

2.62

3.02

7.44

2.91

3.71

2.59

2.71

37.19

1.40

  10th Aug

129

2004

2005

2.43

1.75

1.65

2.64

1.91

2.57

2.13

3.07

2.47

3.68

3.06

2.62

29.98

1.36

  14th Aug

161

2005

2006

1.15

2.05

3.45

2.60

3.70

0.83

0.55

4.31

3.98

4.54

2.62

4.08

33.86

1.13

  15th Sept

151

2006

2007

3.59

2.36

1.96

0.66

3.08

5.61

5.58

1.45

2.37

1.69

1.73

4.08

34.16

1.25

   7th Dec

173

2007

2008

4.24

1.21

2.64

2.49

1.72

2.15

3.30

3.50

2.90

4.91

2.31

2.38

33.75

1.58

   6th Sept

153

2008

2009

2.31

0.90

1.29

1.52

2.53

4.03

5.97

2.04

1.46

1.38

5.04

2.28

30.75

1.17

  28th June

150

2009

2010

1.94

2.21

1.46

0.50

0.76

0.94

2.87

2.90

3.22

2.81

2.45

0.72

22.78

0.76

   3rd Nov

174

2010

2011

2.04

4.43

0.59

0.41

2.18

2.75

2.16

2.89

1.46

2.31

1.70

4.99

27.91

1.12

   6th Feb

160

2011

2012

2.92

1.62

0.97

3.64

2.07

5.27

4.32

3.21

4.55

2.73

3.12

5.29

39.71

1.52

24th Sept.

150

2012

2013

2.28

1.59

1.22

0.62

3.17

2.13

2.23

1.89

1.93

5.15

2.06

2.35

25.62

1.26

28th July

192

2013

2014

4.03

2.84

1.57

1.91

3.98

1.93

2.36

3.57

0.38

3.26

2.64

3.94

32.41

0.70

5th July

147

2014

2015

2.85

1.41

2.73

1.04

3.44

1.55

2.38

3.71

1.69

1.53

5.02

3.80

31.15

1.90

14th Aug

N.A.

2015

2016

3.93

2.94

3.70

2.45

2.04

6.05

3.19

2.18

2.93

0.75

3.22

1.36

34.74

1.11

15th June

188

2016

2017

2.12

2.08

3.17

0.80

1.56

2.88

3.35

2.20

4.14

3.34

3.29

3.51

32.44

1.00

8th July

160

2017

2018

3.05

1.89

2.01

2.93

1.17

0.22

1.09

1.98

3.67

2.12

1.29

3.58

25.00

1.17

20th Sept

206

2018

    2019

1.63

1.07

4.72

1.82

1.20

4.97

6.22

3.38

4.01

5.25

4.68

2.91

41.86

1.50

31st July

168

2019

2020

2.11

5.74

2.00

0.72

0.37

4.21

3.42

4.41

0.91

5.50

2.75

5.13

37.27

1.32

25th Aug

170

2020

    2021

6.49

1.63

2.12

0.50

3.74

0.64

Average

1987-2017

2.67

2.15

2.13

2.06

2.34

2.79

2.80

2.84

2.61

3.34

2.90

3.14

31.61

164

Wettest mo

twice

-never

never-

-never

once

four x

three

twice

twice

seven x

twice

five x

Driest month

twice

three x

seven x

eight x

three x

once

twice

twice

once

-never

never-

-never

Notes:

Seasonal averages: (based on 1987-2012)

Figures in brown indicate the driest month each year

Late Winter/Spring (Feb - May):

2.15" per month

Figures in blue indicate the wettest month each year

Summer (June - September):

2.78" per month

* estimated figure (omitted from averages)

Autumn/Early Winter (Oct - January):

3.17" per month

# Days without rain:  error margin +/- 3 days because of absences

RHD 12/7/21
Average Temperatures at Goostrey, Cheshire,  (Maxima/Minima in degrees Fahrenheit), 2000 – 2021
January

February

March

April

May

June

July

August

September

October

November

December

Year*

Year

Extremes

Max (date)

Min (date)

2000

46/36

50/37

53/38

56/39

65/44

69/51

68/52

71/55

66/51

57/44

47/38

46/37

50.7

89  19/6

15  13/12

2000

2001

42/32

46/33

47/35

55/39

66/45

66/50

71/52

73/55

63/49

62/50

52/40

45/31

49.9

85  30/7

23  18/1

2001

2002

47/37

50/39

54/39

60/40

61/46

67/51

70/52

70/55

65/49

55/43

51/43

44/37

51.1

83  30/7

20    2/1

2002

2003

46/35

44/34

56/36

61/39

61/45

72/53

66/51

71/54

65/49

56/41

52/41

43/32

50.1

91  10/8

23    6/1

2003

2004

46/36

48/37

51/38

57/41

63/46

70/51

67/53

72/57

67/52

58/46

52/42

48/37

51.4

86    9/8

 23    1/3

2004

2005

48/38

47/35

53/41

57/41

62/45

70/54

71/54

71/53

66/49

62/51

50/37

46/36

51.5

85  13/7

21  29/12

2005

2006

45/35

45/35

47/35

57/41

64/45

71/52

82/56

67/54

70/53

61/49

53/41

47/39

51.8

94  20/7

18    3/3

2006

2007

50/39

49/38

55/38

62/43

64/46

68/52

65/53

69/52

64/47

59/45

52/38

46/36

51.2

82    6/8

22    7/2

2007

2008

50/39

50/34

51/36

55/39

66/47

66/48

69/55

68/56

63/49

56/43

49/40

43/33

50.2

82  29/7

21  18/2

2008

2009

42/33

44/36

52/38

61/42

65/47

70/49

71/54

71/55

66/50

60/46

52/41

42/32

50.8

88    2/7

19    6/1

2009

2010

38/28

42/29

53/35

60/38

59/40

71/49

71/55

68/52

66/49

58/43

47/35

35/23

47.6

83  28/6

  5    8/1

2010

2011

43/33

49/38

53/36

65/42

66/46

67/47

71/51

70/53

68/52

61/48

54/43

47/38

51.3

84  28/6

20  23/1

2011

2012

47/35

44/35

57/39

53/38

65/44

65/51

68/54

71/55

64/47

56/41

49/38

44/35

49.8

83  29/5

22    3/2

2012

2013

43/35

44/33

44/30

55/37

60/43

68/49

79/54

74/54

67/49

61/49

49/37

49/38

50.0

88  20/7

24  14/3

2013

2014

47/37

49/38

51/37

62/42

66/47

73/51

77/53

70/51

69/47

61/46

52/41

45/35

52.0

87  26/7

26  3/12

2014

2015

45/35

45/33

52/35

62/38

63/41

70/47

70/50

70/50

65/45

66/43

54/42

54/43

50.8

90    2/7

24    3/2

2015

2016

46/37

46/34

49/35

54/36

64/45

68/52

70/53

70/54

68/53

58/43

46/33

48/37

50.1

88   19/7

24  29/11

2016

2017

44/35

48/39

54/39

56/39

65/47

69/53

71/53

68/51

63/48

59/48

49/37

45/35

50.6

85   19/6

20  12/12

2017

2018

46/36

42/31

47/34

56/42

68/44

72/50

78/54

70/53

64/48

58/42

51/41

48/40

50.2

87   26/6

20   28/2

2018

       2019

43/34

52/44

52/39

59/38

61/43

65/50

72/54

71/55

64/49

55/42

47/38

47/36

50.6

93 25/7

22 3/2

2019

2020

48/39

49/43

52/35

62/40

66/42

68/51

67/53

71/55

65/48

56/44

53/41

45/36

50.8

91 31/7

24 25/12

2020

        2021

41/37

47/41

52/45

55/44

59/42

70/50

 Average

45/35

46/35

52/37

58/40

64/45

69/51

71/54

70/54

66/49

59/45

51/39

45/35

50.6

2000-17

*  The yearly figure is an average of all monthly figures, both maximum and minimum

Red type indicates the warmest month in the year

Blue type indicates coldest month in the year

Conversion to Celsius

Fahr't

16

21

25

30

36

41

45

50

55

59

66

70

75

80

86

91

Celsius

-9

-6

-4

-1

2

5

7

10

13

15

19

21

24

27

30

33

RHD 12/7/21

<![if !supportMisalignedColumns]>
<![endif]>
If other pages are not listed to the left, the Home Page can be accessed here:  www.robertdarlaston.co.uk
I may be contacted at robertdarlaston[at]btinternet.com.   (replace [at] with the customary @ )